Roll Crusher
supplyability: 30 Set/Sets per Dayprice: 1 - 10000

Port: QingDao,ShangHai,DaLian

Type: teeth roll crusher

Application: Rock crushing, Stone crushing, Cement, Mining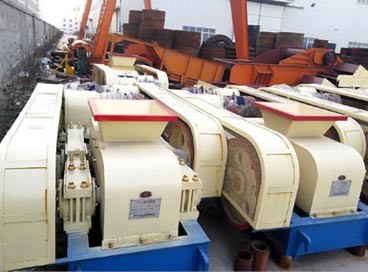 Features

Roll crusher
Roll crusher also can be called roller crusher,double roll crusher or teeth roll crusher,is suitable to be used in such industrial departments as cement, chemistry, power, metallurgy, building material and refractory for the medium and fine crushing of medium hard materials such as limestone, slag, coke and coal.
This series of double roll crusher is mainly composed of rolling wheel, supporting bearing for the rolling wheel, pressing and adjusting device and driving device.
Features:
Roller crusher has many performance features such as reliable working condition, simple maintenance, low running cost and adjustable discharging granularity.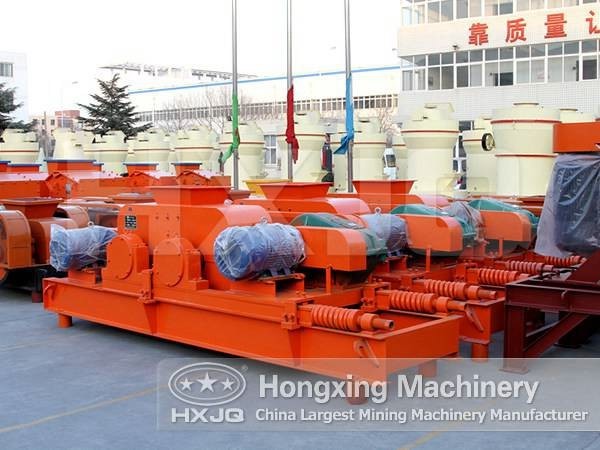 Working Principle:
As the rollers of the teeth roll crusher is smooth, it has not only crushing function, but grinding function. After the materials go into the crushing chamber of the machine, under the driving force of the rotating roller, the materials will be pushed to be space between the two rollers. At the same time, influenced by the squeezing, cutting and grinding force of the rollers, the materials will begin to break. The broken small-sized particles will be thrown to bottom of the machine through the gap between the two rollers along the tangent line of the rotation of the rollers. The materials bigger than the gap will continued to be crushed to small particles.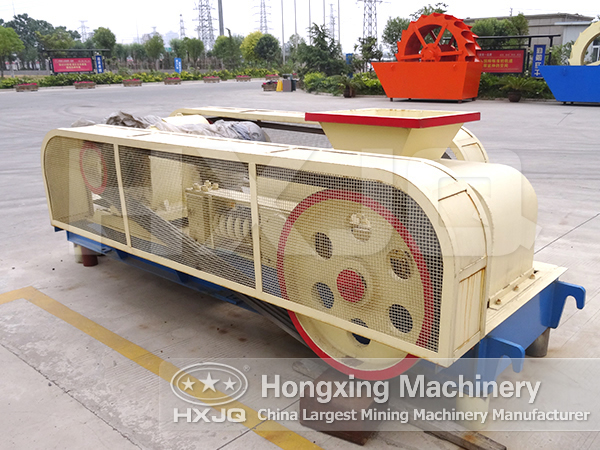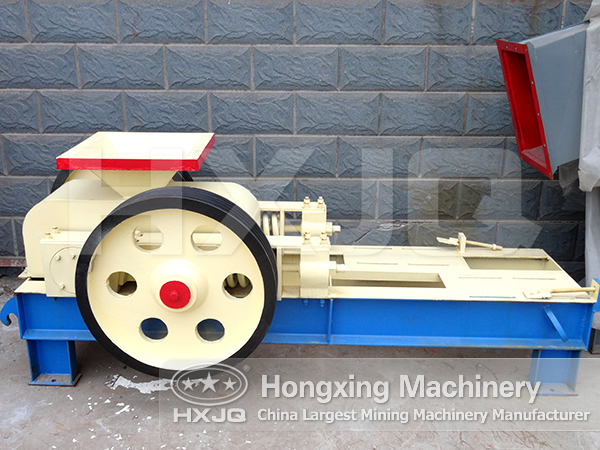 Teeth Roll Crusher
Hongxing teeth roll crusher mainly adopts special wear-resisting teeth rollers, with high performance and good quality, so it is mainly used for general crushing and fine crushing of ores and rocks with high and medium hardness in mineral processing, chemical, cement, refractory, abrasives, building materials and other industrial sectors. Hongxing teeth roll crusher uses the high squeezing extrusion force generated by relative rotation of wear-resistant rollers to crush materials. After materials being fed into the gap of rollers, materials will be crushed into required size under extrusion force and shear stress, and then, crushed materials will be discharged and then sent out by belt conveyor.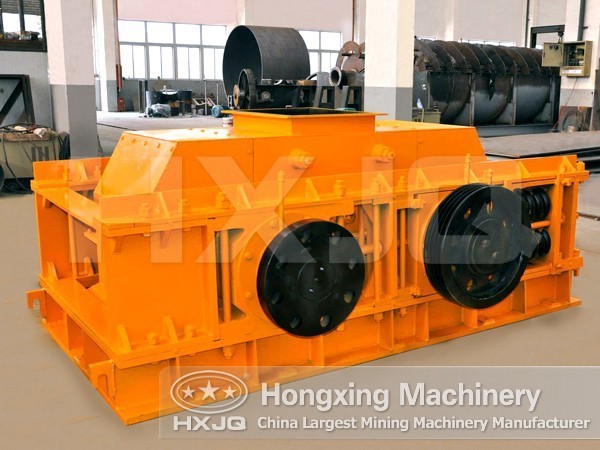 Notice on Using of Teeth Roll Crusher
1. Strength the deironing work. Non-crushable materials that fall between the two rollers will damage the crusher, which may cause stoppage, for this reason, deironing device should be installed in front of the crusher.
2. After the double roll crusher runs for a long time, the abrasion of the roll surface will cause over-fine product granularity. A t this time, pay attention to adjusting the discharging mouth or examine and repair the equipment.
3. Strengthen the examination of the teeth roll crusher and timely add lubricating grease on the lubrication part of the equipment to maintain excellent lubrication state.
Roll crusher is known for its two breaking rollers. Raw materials drop from the top to enter into the gap between the two rollers, and the two rollers relatively rotate to extrude and crush materials.
Roller crusher can be used in metallurgy, building material, quarrying and other industries. The double roll crusher is also widely used in coal plant and thermal power plant.
When the teeth roll crusher encounters materials can't be crusher during work, the rollers can automatically spring back, so that increases the gap between the two rollers, allowing excellent material falls and protecting equipment from damage.
Technical Data

Parameters type
| | | | | | | | |
| --- | --- | --- | --- | --- | --- | --- | --- |
| Model | 2PG0425 | 2PG0640 | 2PG0740 | 2PG0850 | 2PG1060 | 2PG1260 | 2PG1560 |
| Roller diameter(mm) | Ф400 | Ф600 | Ф700 | Ф800 | Ф1000 | Ф1200 | Ф1500 |
| Roller width(mm) | 250 | 400 | 400 | 500 | 600 | 600 | 600 |
| Input Size(mm) | ≤25 | ≤25 | ≤25 | ≤25 | ≤30 | ≤30 | ≤30 |
| Discharging Gate(mm) | 2-8 | 2-8 | 2-8 | 2-8 | 2-10 | 2-10 | 2-10 |
| Processing capacity(t/h) | 5-10 | 10-20 | 15-30 | 20-40 | 30-50 | 40-70 | 60-110 |
| Power Models | Y132M-6 | Y180L-6 | Y200L-4 | Y225M-4 | Y250M-4 | Y315M-6 | Y315L-6 |
| Motor power(kw) | 5.5×2 | 15×2 | 30×2 | 45×2 | 55×2 | 75×2 | 110×2 |
Please enter your questions, such as ball mill: the type of raw material, feed size, capacity, specifications and the final product size, we will answer your questions as quickly as possible according to your needs.
Now purchasing our products will enjoy the lowest discount, please call our hotline: 0086-0371-63313738