Gravity Spiral Chute
supplyability: 10 Set/Sets per

Weekprice: 1,400 - 4,200

Port: Qingdao,Tianjin,Shanghai or others

Type: Sprial Separator

Application: Ore, ore beneficiation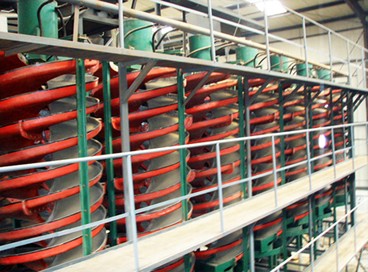 Features

The gravity spiral chute is made of light chlorine plastic and it is of anti-rust and water proof. The spiral chute is used for adjusting feeding size of the granularity.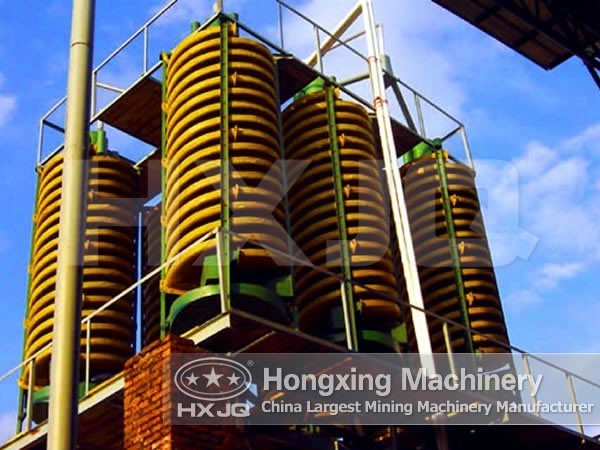 With simple structure and large capacity, the gravity concentrator is of good performance. Chute is one part of the bevel process sorting, the pulp is in certain tilt slant and it will be pushed by stratified flow in order to be layered. The light mineral discharged is called fine concentrate and the heavy minerals which are discharged from the bottom of the slot bottom is yielding tailings.
Working principle:
When using the chute when the vertical line need to be calibrated, the ore is sent to the feed mouth. adding additional water. After adjusting the concentration of mineral by adding additional water. The paddle streams down from the high place. In bevel velocity will produce a centrifugal force. Under the action of gravity and centrifugal force, ore and sand will be separated from each other. The tailings then flow into the tailings and the sand is drain away by pump to complete the whole process of the beneficiation.
Technical Data

Parameters type
Model
Processing
capacity
(t/h)
DL2000
15-40
DL1500
8-16
LL1200
4-6
LL900
2-3
Please enter your questions, such as ball mill: the type of raw material, feed size, capacity, specifications and the final product size, we will answer your questions as quickly as possible according to your needs.
Now purchasing our products will enjoy the lowest discount, please call our hotline: 0086-0371-63313738