Shaking Table
supplyability: 50 Set/Sets per Monthprice: 1,530 - 36,852

Port: Qingdao,Tianjin,Shanghai or others

Type: shaking table separation

Application: ore, rock separation, stone separation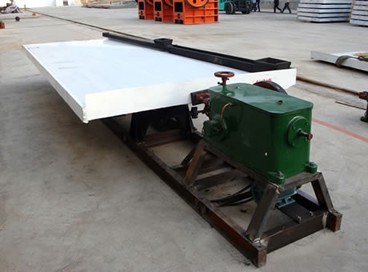 Features

Shaking table also can be called jerking table,concentrator table or ore concentrator,is gravity separation equipment for sorting of fine materials, widely used for sorting tin, tungsten, gold, silver, lead, zinc, tantalum, niobium, iron, manganese, titanium and coal, etc..
Main structure
jerking table is primarily composed by the bedside, motor, slope regulation device, bed, bunker, trough, rifle bar and lubrication systems.
Working Principle
Shaker beneficiation is by dint of the combined effects of mechanical slate symmetrical reciprocating motion and beveled thin layer of current on a tilt bed surface to make mineral particles be loosely layered on the bed surface, so that sort minerals according to the density .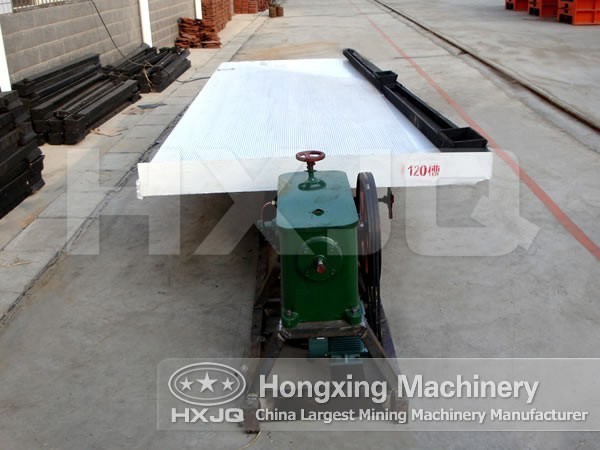 Performance characteristics
The ore concentrator is a combination of the domestic shaker and gravity beneficiation technology, having high concentration ratio, good sorting efficiency, simple operation, etc., and can get final concentrate and final tailings once for all.
Compared with the traditional process, it has the advantage of no pharmacy, low energy consumption and easy management, with high performance and low cost.
Concentrator table is a traditional ore dressing equipment. Shaking table is an ore separating equipment to separate with the help of asymmetrical reciprocating motion of bed surface and the water flow of inclined plane. Jerking table has a high separate precision. Users can get the final concentrate by once time separating.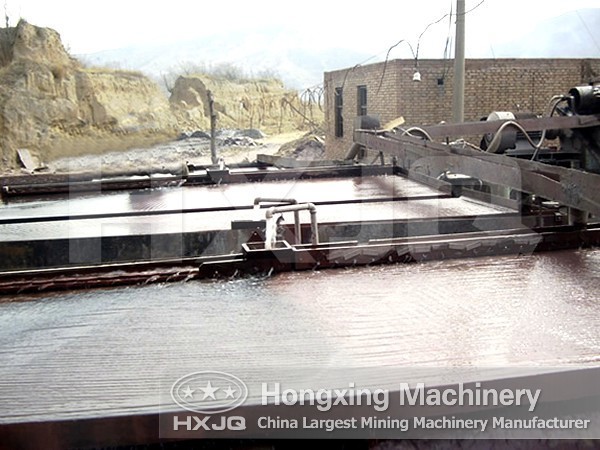 The electromotor drives the eccentric gear of ore concentrator to make the bed surface longitudinally moving back and forth, to reach the purpose of filtering. Water flows form a uniform layer of water on the bed from one side of ore concentrator and flow towards the direction of bed surface. As the different proportions and sizes of mineral particles, in the role of water, small proportion of mineral particles are taken to one side of the table concentrator, and the large ones are taken to the other side, thus to achieve the purpose of separating the slurry.
Hongxing Machinery is specialized in the production of gold shaker table, alluvial shaker table, 6S shaker table and shaker table processing equipment. The shaker table of our company is widely used for gold ore dressing and it is the common equipment in gold ore dressing. In addition, our company can provide project design, process design and the design and manufacture of standard and non-standard machine for the users. 6S shaker table is a kind of physical separation equipment. It is mainly used for separating gold, silver, lead and zinc, niobium tantalum, tin and other rare metals and precious metal ore.
Technical Data

Parameters type
Name
Grit
concentrator
table
Fine sand
concentrator
table
Sludge
concentrator
table
Bed surface
Dimensions
Length
(mm)
4450
4450
4450
Driving
part Width
(mm)
1855
1855
1855
Concentrate
part Width
(mm)
1546
1546
1546
Max.feeding
size(mm)
2
0.5
0.15
Feeding
amount
(t/d)
30-60
10-20
15-25
Feeding
thickness
(%)
25-30
20-25
15-25
Stroke
(mm)
16-22
11-16
8-16
Frequency
(f)
45-48
48-53
50-57
Bed surface
Water quantity
(t/d)
80-150
30-60
10-17
Bed surface
Horizontal
obliquity(°)
2.5-4.5
1.5-3.5
1-2
Bed surface
Portrait
obliquity(%)
1.4
0.92
----
Table board
corner(°)
32-42
40
42
Concentrating
area(㎡)
7.6
7.6
7.6
Bed surface
Length ratio
2.6
2.6
2.6
Shape of
side-bed
surface
Rectangle
Zigzag
Triangle
Motor
power(kw)
1.1
1.1
1.1
Transmission
device
Eccentricity Linkage
Please enter your questions, such as ball mill: the type of raw material, feed size, capacity, specifications and the final product size, we will answer your questions as quickly as possible according to your needs.
Now purchasing our products will enjoy the lowest discount, please call our hotline: 0086-0371-63313738