Working Principle and Operation of Spiral Classifier
Spiral classifier is widely used in ore dressing plant, together with ball mill, forms a closed cycle to shunt mineral sand; it can also be applied in the gravity mill to grade sand and clay; in the metal beneficiation process, classifier can grade pulp according to the particle size; in ore washing, it can get rid of mud, dehydrate and so on. Classifier mainly consists of the transmission device, spirochetes, tank, the lifting mechanism, lower support (bearing) and discharging valve.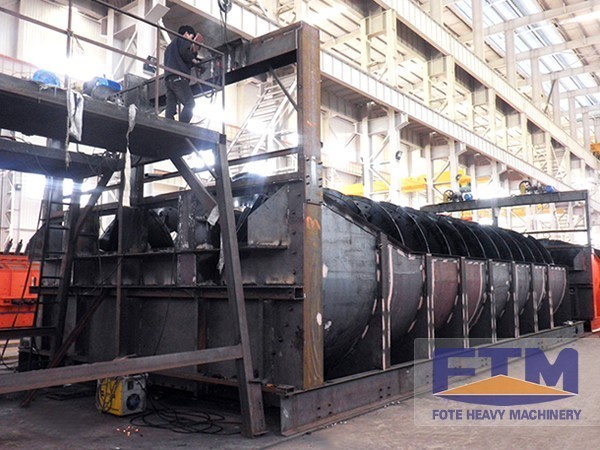 What is the working principle of the classifier? Classifier makes use of the axiom that solid materials of different particle sizes own different specific gravity, thus their settling velocities in liquids are different. Under the axiom, fine mineral particles would float in the water and overflow while the coarse mineral particles would sink to the bottom. Classifier uses screw to push the material to do mechanical grading, it uses spiral slice of the spiral flake to screw coarse material into grinder inlet and filtrates mill powder, the fine material filtrated is discharged from the overflow pipe.
Operation
Only after knowing clearly about the structure and working principle of the classifier, can a person operates it.
Only when the classifier starts, can the pulp start to be given and the quantity of mine should increase gradually.
In the working condition, if special faults occur to the classifier, the classifier must immediately be stopped and get out of the slurry, rather than be covered in the pulp; quickly open the ore valve to avoid blocking.
When started again, the classifier should descend to a certain position, before operation.
If the machine needs to be stopped, you should firstly stop feeding, when no material is inside, can it be stopped.
Please enter your questions, such as ball mill: the type of raw material, feed size, capacity, specifications and the final product size, we will answer your questions as quickly as possible according to your needs.
Now purchasing our products will enjoy the lowest discount, please call our hotline: 0086-0371-63313738