Corporate Information

Contact us or our partners about our products, supplies, services, support and programs.
| | |
| --- | --- |
| | E-mail: market@hxjq.com |
| | TEL: 0086-0371-63313738 |
| | MSN: hxjq@hxjq.com |
| | Yahoo: hxjqchina@yahoo.com |
Mobile Crusher Tries to Wipe out Construction Wastes
Professionals must know that a huge number of construction wastes are waiting to be dealt with in many construction sites, which brings a new opportunity for crushers made by the mining machinery companies. Crushers are widely used by workers and construction teams or corps to realize ideal crushing effect and gain fine crushed materials that they may want to reuse. In early years, Hongxing experts have set up its own research and development department and gathered lots of technological talents, all these efforts leading the company to create and manufacture the perfect Hongxing mobile crusher plant which will offer ideal solution for the current urgent issue of handling construction wastes. Mobile crushers can work smoothly by cooperating with each other as soldiers in an army, which will do better in the crushing process in the construction sites.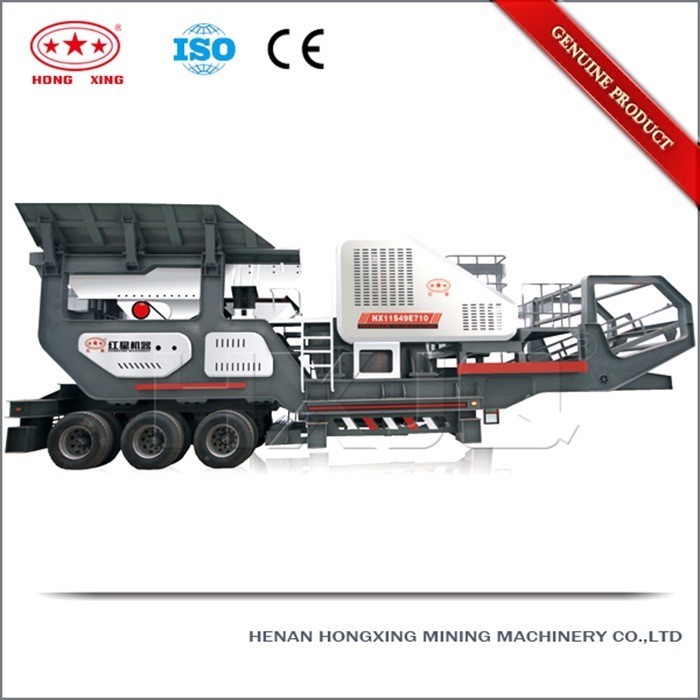 As the economy develops rapidly recently, buildings especially skyscrapers are springing up in cities and towns at high speed. New buildings come and old ones are abandoned. Therefore, construction wastes appear respectively. It's reported that every year building removal and reconstruction projects will cause billions of tons of wastes. Data shows that there will occur 500-600 tons of construction wastes in every ten thousand square meters' building site. Apart from construction wastes, other solid industrial wastes will also be created. In this case, our company has introduced customers the most popular crushing machines to break all kinds of wastes existing in the construction site, namely Hongxing mobile crushing plant, especially the crushing star- jaw crusher which has made much improvement based on the traditional jaw crusher. It is armed with a hydraulic device system which will strengthen the security performance, operating continuity and running efficiency.
Why do customers recommend the mobile crushing plant equipped with jaw crusher to deal with hard and corrosive construction wastes? The reasons lie in the modern requirement of the crushing process. For these wastes, we need a crushing tool that is quite safe and simple to operate and also can realize high efficiency, environmental protection and zero emission. All these strict standards are not easy to come true if the company doesn't take much time and effort to study and analyze what kind of design of the crusher will finally meet the market demand. Hongxing takes lead among competitors. Through trial and error, Hongxing experts reorganize the traditional mobile crushing plant, adding scientifically sand maker and jaw crusher to it, thus creating the new handling equipment which is in line with the indexes of the resource recycling and reuse policy made by the government. The mobile crushing plant integrates the feeding, crushing and conveying processes to form a strong crushing and separating production line. Above all, we believe that Hongxing will definitely make excellent achievement in handling construction wastes by adopting the new advanced mobile crusher families.
Please enter your questions, such as ball mill: the type of raw material, feed size, capacity, specifications and the final product size, we will answer your questions as quickly as possible according to your needs.
Now purchasing our products will enjoy the lowest discount, please call our hotline: 0086-0371-63313738