Corporate Information

Contact us or our partners about our products, supplies, services, support and programs.
| | |
| --- | --- |
| | E-mail: market@hxjq.com |
| | TEL: 0086-0371-63313738 |
| | MSN: hxjq@hxjq.com |
| | Yahoo: hxjqchina@yahoo.com |
How to Properly Use Jaw Crusher Machine?
I Stop operation and emergent treatment methods of jaw crusher
1. The jaw crusher can be stopped only after the ores being discharged completely.
2. Stop feeding system (chute feeder) before stopping the jaw crusher.
3. The vacuum cleaner and water supply systems can be stopped only after the jaw crusher having been stopped for 5 minutes.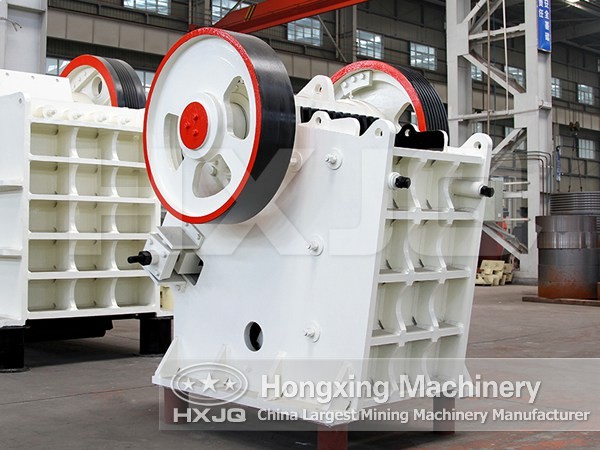 II The inspection and preparation before starting jaw crusher
1. Operators must check if the lubrication points are normal, if there is no plug and oil spills and other phenomena before starting the jaw crusher.
2. Making sure the operating handle has plenty of oil before starting the jaw crusher.
3. Inspect the various instruments to see whether it is in good condition.
4. Adjust discharging opening to the appropriate scale.
5. Check if the crushing cavity has ores or other broken things.
6. Adjust the tightness of v-belts and locking spring properly.
7. Check if the electrical system, lights, as well as the protection of facilities are complete properly.
8. Check if the connection bolt is loose.
III Details for safety and security
1. The hydraulic interlock system of jaw crusher may not be removed under any circumstances. This is the assurance of safe operation of the equipment. 2. Standing in front the rotary station of Jaw Crusher is not allowed when the machine is running.
3. When the machine is running, the operator is not allowed to pick it ore or other related items with hands.
4. The feeding size should not be more than 0.85 times the size of the feeding port of jaw crusher.
5. Jaw Crusher is suitable for crushing hard and medium hard ores, so do not use it to crusher unsuitable materials (such as fragile items), to avoid unnecessary damage of jaw crusher.
IV Methods to starting jaw crusher
1. Start dust collection systems.
2. After receiving the signal of flow in the lower part, no-load starting Jaw Crusher.
3. After the jaw crusher working properly, start chute feeder to feed materials for crushing.
Please enter your questions, such as ball mill: the type of raw material, feed size, capacity, specifications and the final product size, we will answer your questions as quickly as possible according to your needs.
Now purchasing our products will enjoy the lowest discount, please call our hotline: 0086-0371-63313738