Corporate Information

Contact us or our partners about our products, supplies, services, support and programs.
| | |
| --- | --- |
| | E-mail: market@hxjq.com |
| | TEL: 0086-0371-63313738 |
| | MSN: hxjq@hxjq.com |
| | Yahoo: hxjqchina@yahoo.com |
Social Construction Needs Mobile Cone Crushers
Our company is well known in China as the leading enterprise in the mining machinery industry. Our cone crushers, especially the mobile cone crushers, are playing an incredible role in the sand aggregate production line serving the urbanization construction.
In 2014, the Chinese government starts many construction projects such as the highway, rail transit and hydraulic engineering. The great amount of demand for the sand and stones will provide our mobile cone crusher manufacturers with many opportunities.
As the national construction projects continue, the domestic mining machinery industry has entered the rapid development period. This has created a good chance for cone crushers made by our company.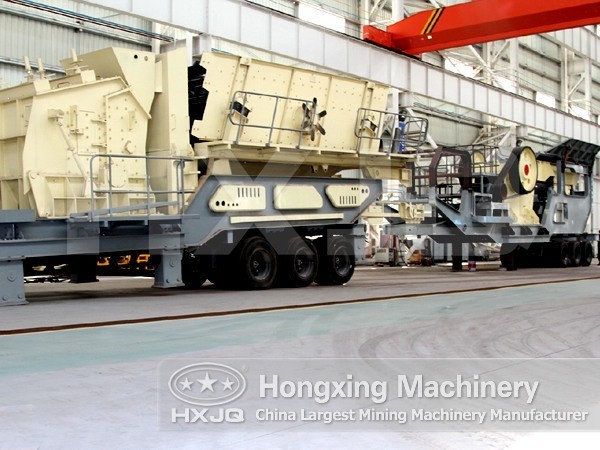 Our mobile cone crushing station adopts the noise eliminator with the compact structure which is the best noise absorption system and can meet the construction waste crushing operation requirement. Its effective dust pelletizing system, the proper pollution discharging status of the diesel engine and the releasing system can remotely control the hydraulic pressure to remove the obstacles of the mobile crushing station.
Completely different from the past machines, the new cone crusher possesses the most advantages of all kinds of crushers which can not only increase the productivity and the working efficiency, but also expand the range of applications. The latest cone crusher can handle materials like limestone, basalt and realize medium crushing, fine crushing and rough crushing at the same time.
Our high efficient cone crusher has adopted the international advanced technology and combines the domestic traditional manufacturing technique. For more details, please visit our official website.
Please enter your questions, such as ball mill: the type of raw material, feed size, capacity, specifications and the final product size, we will answer your questions as quickly as possible according to your needs.
Now purchasing our products will enjoy the lowest discount, please call our hotline: 0086-0371-63313738