Corporate Information

Contact us or our partners about our products, supplies, services, support and programs.
| | |
| --- | --- |
| | E-mail: market@hxjq.com |
| | TEL: 0086-0371-63313738 |
| | MSN: hxjq@hxjq.com |
| | Yahoo: hxjqchina@yahoo.com |
Mobile Crushers Play the Role of a Hero in Modern Times
As time goes by, the infrastructure construction continues to develop at high speed which drives the construction industry to expand its development range. In this case, there are more and more construction wastes produced which becomes the trouble for both construction enterprises and the social economy.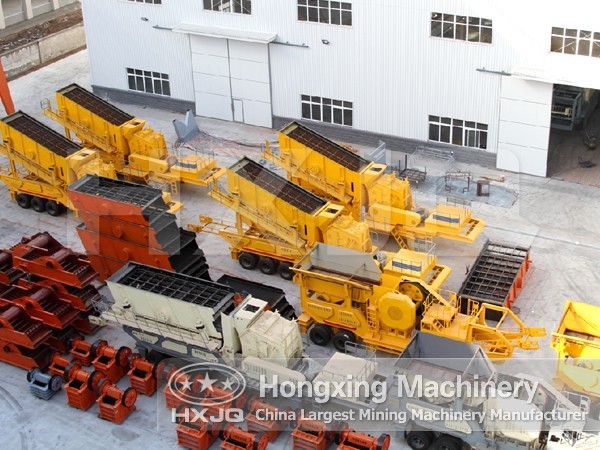 If the construction waste can't be handled quite well, it will pose a serious threat to the living environment for people. At the same time, the construction waste produced during the urban development is increasing in quantity and the earth resource becomes less and less. It's difficult for us to find enough places to pile the construction waste. Therefore, it's an inevitable problem to recycle the construction waste.
It's proved that the most effective way to transform the construction waste to the new materials is to collect, separate, recycle, store, handle and recycle the waste in order and to form an industrial chain. In such case, the mobile crushing station helps us to realize all the mentioned effects.
Our mobile crusher is designed with flexible structure with good mobility and low energy consumption. The equipment not only can crush the construction waste, but also can change its working area when the crushing position needs to be changed. The mobile crushing station can make the construction waste reused after they go through the rough crushing, screening, magnetic separation and washing processes. Finally, these wastes will turn to be regenerative rough and fine sand materials. The mobile crusher plays the role of a hero in modern times and we believe that it will perform well in the domestic construction waste.
Please enter your questions, such as ball mill: the type of raw material, feed size, capacity, specifications and the final product size, we will answer your questions as quickly as possible according to your needs.
Now purchasing our products will enjoy the lowest discount, please call our hotline: 0086-0371-63313738