Advanced Classification Equipment for the Ore Beneficiation
In general, when we have crushed and ground the minerals to fine particles, the next thing we need to do is to classify the required fine minerals which at the same time can not only improve the working efficiency of the grinding machines, but also can avoid the over crushing and over grinding phenomena.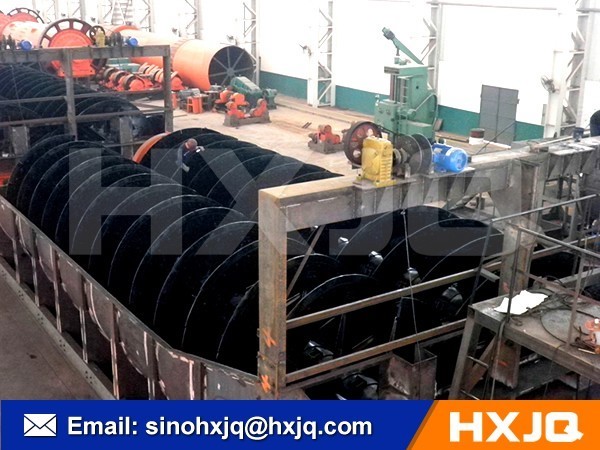 It's not easy for users to realize the classification inside the grinding mills, so we need the classifier or other classification equipment to help perform this process. The wet type classification adopts the principle of different ore particles having different sinking speeds. Through the classification, the qualified materials overflow to be used in the ore beneficiation, while the rough materials are returned to the grinding mills for further grinding. The common mechanical classification machines include the rake type classifier, chute classifier, spiral classifier and hydro-cyclone.
When operating the classification equipment, we should consider the following four indexes in order to realize the perfect effect:
1. The first factor is the hardness and the fineness of the crushed materials like the calcite.
2. With the same material fineness, we should pay attention to the unit productivity of the materials with medium hardness per hour.
3. When the above two conditions are the same, we need to consider the unit energy consumption of the materials.
4. The final index we need to focus on is the abrasion of the products.
Apart from the above four common factors, there are still other indexes that will have effect on the performance of the classification equipment. They are the equipment quality, investment, working condition and so on.
Please enter your questions, such as ball mill: the type of raw material, feed size, capacity, specifications and the final product size, we will answer your questions as quickly as possible according to your needs.
Now purchasing our products will enjoy the lowest discount, please call our hotline: 0086-0371-63313738