Corporate Information

Contact us or our partners about our products, supplies, services, support and programs.
| | |
| --- | --- |
| | E-mail: market@hxjq.com |
| | TEL: 0086-0371-63313738 |
| | MSN: hxjq@hxjq.com |
| | Yahoo: hxjqchina@yahoo.com |
Two Key Stages for the Toothed Roll Crusher
Learning about the crushing and discharging principle of the toothed roll crusher will be useful for the users to make full use of it.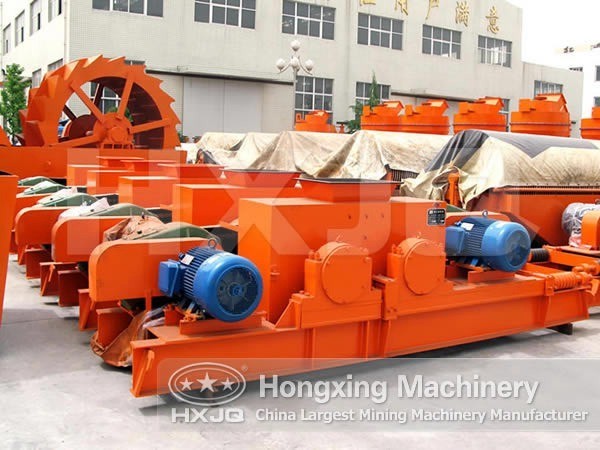 The toothed roller crusher is widely used to crush materials such as limestone, slag, coke and coal in the industries of cement, chemical engineering, electricity, metallurgy, construction materials and refractory matter. The main working parts of the toothed roll crusher are two parallel tooth rolls which will rotate to crush materials
According to our experts, the working process of our toothed roll crusher can be divided to two main stages:
Stage one: when the rotating tooth roll meets bulk materials, it will impact, cut and tear the materials in order. If the materials can be bit by the tooth roll, they will enter the next stage; or else, the roll will slide along the material surface and make the materials rotate, waiting for the next tooth roll's impact.
Stage two: the materials bit by the tooth roll will experience the second stage. The space between the biting teeth turns from wide to narrow to wide. Materials with big particles will pressed to small pieces because of the smaller and smaller containing space. The crushed materials are squeezed out from the backlash in circular tooth.
The double tooth rolls cooperate to finish the whole crushing process and the number of the twin rolls will decide the operating times of the toothed roll. We hope that the brief knowledge we share above will help customers realize the ideal crushing result as they expect.
Please enter your questions, such as ball mill: the type of raw material, feed size, capacity, specifications and the final product size, we will answer your questions as quickly as possible according to your needs.
Now purchasing our products will enjoy the lowest discount, please call our hotline: 0086-0371-63313738