Corporate Information

Contact us or our partners about our products, supplies, services, support and programs.
| | |
| --- | --- |
| | E-mail: market@hxjq.com |
| | TEL: 0086-0371-63313738 |
| | MSN: hxjq@hxjq.com |
| | Yahoo: hxjqchina@yahoo.com |
What Makes Our Mobile Crushing Station Welcome?
Our mobile crusher or mobile crushing station is an original rock breaking machine which expands the concept range of the crushing industry to a large extent. The reasons that make our mobile crushing station welcome by customers all over the world are its five excellent performances.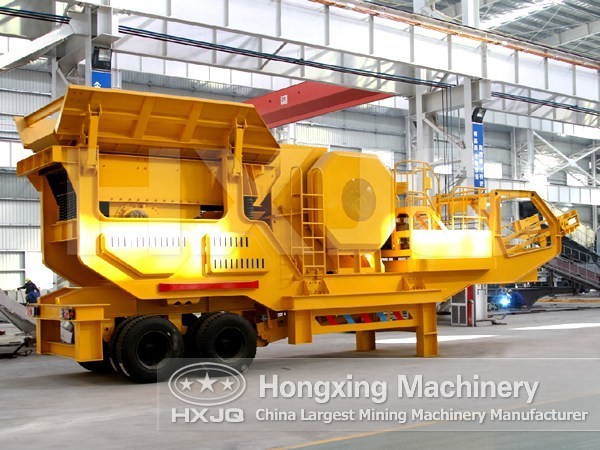 1.Whole integrated equipment set: the integrated installation form avoids the complex installing process in the working field where parts used to be separated and rearranged, reduces the material and time expenditure and improves the flexibility of the site residence.
2.Flexibility: the mobile crusher owns high level vehicle-mounted chassis and its width is smaller than the operating semi-trailer, which makes it convenient to move on the ordinary roads as well as difficult ones in the crushing zone.
3.Saving much material transportation expense: the mobile crushing station can realize the first line field crushing of materials, leaving out the intermediate link when materials are transported away from the field for later crushing, thus reducing the material transportation expense to a large extent.
4.Direct and effective site crushing: the integrated mobile crusher can be applied individually or in a customized way according to users' requirement for material type and product quality. Its direct and effective site crushing and transportation helps to realize the cost minimum.
5.Being well-adapted: apart from the individual running, the mobile crushing station can also work together with many other auxiliary devices. There are many kinds of operating schemes of the mobile crusher to realize multiple functions.
For more information, please visit the homepage of our official website.
Please enter your questions, such as ball mill: the type of raw material, feed size, capacity, specifications and the final product size, we will answer your questions as quickly as possible according to your needs.
Now purchasing our products will enjoy the lowest discount, please call our hotline: 0086-0371-63313738