Corporate Information

Contact us or our partners about our products, supplies, services, support and programs.
| | |
| --- | --- |
| | E-mail: market@hxjq.com |
| | TEL: 0086-0371-63313738 |
| | MSN: hxjq@hxjq.com |
| | Yahoo: hxjqchina@yahoo.com |
How can Manufacturers Promote the Sand Making Plant?
As high efficiency sand making plants with features of long duration and environment protection become welcome, sand making plant manufacturers start to pay attention to the transformation of the current mining machines.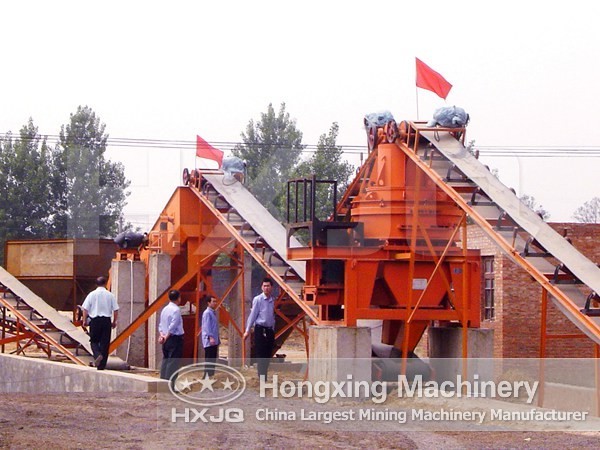 According to our experts, we can take measures to promote the whole industry from the following aspects:
1.To research and develop new sand making plant with features of energy conservation and emission reduction has been paid much attention to. In addition, the sand making plant industry should also stress the gathering of waste gas, waste liquid and waste solid. The recycling device will also be needed in the future market.
2.We can develop the high technological intelligent sand making device. Facing the serious human resource problem of the heavy industry and increasing cost, to develop intelligence device will provide enough room for the future mining machinery market.
3.We need to consider inventing new metallurgy equipment. The innovation of the metallurgy technology and the improvement of the metallurgy equipment help each other to move forward. The metallurgy and the machinery industries are both adopting the continuous casting technology and they push each other to develop deeply.
4.We should also notice that the energy consumption, material consumption and capital consumption problems will exist during the operation process of the machines. Therefore, a large amount of effort should be made to do research and development on the new technology and equipment which will solve the following issues.
Above all, the sand making plant manufacturers including our company need to make changes about the current technology and machines by improving and upgrading the whole production line.
Please enter your questions, such as ball mill: the type of raw material, feed size, capacity, specifications and the final product size, we will answer your questions as quickly as possible according to your needs.
Now purchasing our products will enjoy the lowest discount, please call our hotline: 0086-0371-63313738