Corporate Information

Contact us or our partners about our products, supplies, services, support and programs.
| | |
| --- | --- |
| | E-mail: market@hxjq.com |
| | TEL: 0086-0371-63313738 |
| | MSN: hxjq@hxjq.com |
| | Yahoo: hxjqchina@yahoo.com |
How Can Users Complete the Flotation Process Smoothly?
The flotation separator used by customers in the flotation process is regarded as the most effective machine in the ore beneficiation industry. How to complete the flotation process perfectly has become the concern for users of the flotation separators. Once we handle the following operations quite well, we will surely make full use of the flotation separator.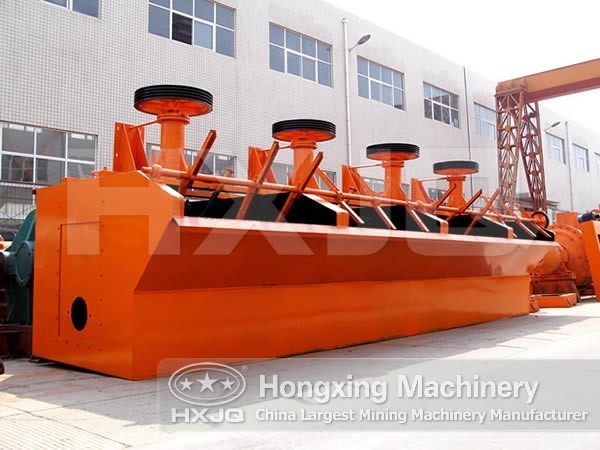 1. The preparation of the raw materials: before the flotation starts, we should process the materials in advance such as grinding, size mixing, adding drugs and stirring. The grinding step means to make the minerals meet the required particle size, aiming to realize the monomer separation of the useful elements. The size mixing treatment can adjust the raw materials to the proper ore pulp. The addition of the flotation agent will intensify the difference between the useful elements and the mineral surface flotability. And stirring materials will make the flotation agent contact with the minerals completely.
2. The air inflation through stirring: the flotation separator will suck air after its stirring and air inflation device mixes the raw materials. Or we can install the specialized air pressing device to push air in to the machine. By doing this, we aim to make the mineral particles in floating status and produce a large number of steady bubbles with proper shape and size.
3. The mineralization of the air bubbles: after contact with the flotation agent, the minerals with the surface hydrophobicity will attach to the bubbles and then float to the pulp surface to be mineralized foam. The surface hydrophillicity minerals will remain in the pulp.
Please enter your questions, such as ball mill: the type of raw material, feed size, capacity, specifications and the final product size, we will answer your questions as quickly as possible according to your needs.
Now purchasing our products will enjoy the lowest discount, please call our hotline: 0086-0371-63313738